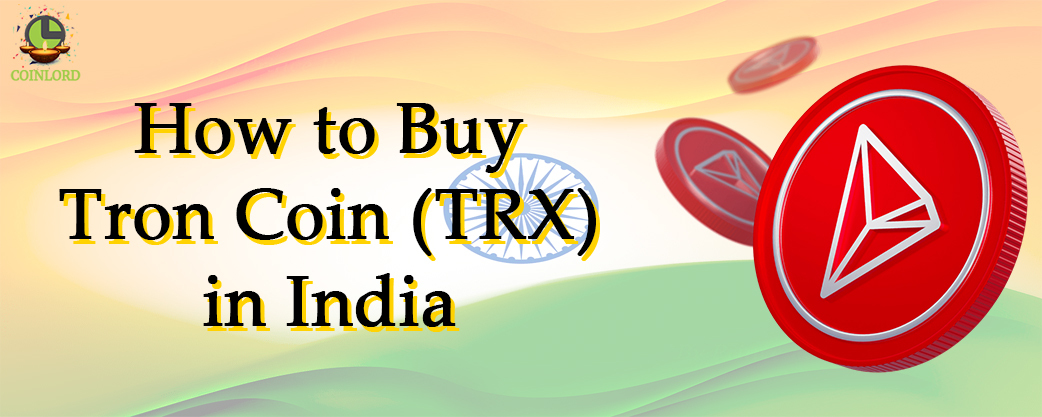 How to Buy Tron Coin (TRX) in India
Recently, the general population has been fascinated by cryptocurrency. Be it Bitcoin or Ethereum, every coin is a good investment.The question is, how do you choose?
There are different factors that one should consider before investing in any coin. Among them is its working process and whether it can make you money or lose it overnight. In this article, we will tell you about the concept of Tron Coin (TRX) and how we can buy this coin as people used to buy the first indian crypto coin i.e gander coin.
A large number of entertainment industry participants are expected to join the Tron community to jointly collaborate on content production, distribution, marketing, user engagement and other key areas in an open market environment to achieve mutual benefits.

After increasing in value by 40% over the previous month, the cryptocurrency Tronix (TRX) is receiving media attention. It now ranks as the second-largest public chain by stablecoin market cap on the Tron blockchain, on which it runs.
Here is how to invest in TRX if you're interested in doing so and are aware of the hazards involved with trading cryptocurrencies.
Integrated wallets are typically cost-free, but you will have to pay for a non-custodial wallet or a cold wallet in the form of a physical storage device.
What is a Tron Coin (TRX) ?
The Tron Foundation created and released TRON (TRX), a decentralised blockchain-based operating system, in 2017. The TRX coins were initially issued on Ethereum as ERC-20-based tokens and later moved to their own network.
The project's original intention was to provide digital content creators complete ownership rights.The major objective is to support and motivate content creators—who currently only receive a small portion of the income—by giving them greater compensation for their efforts. But How- Request direct payment from content consumers (without intermediaries like YouTube, Facebook or Apple).
The TRON technology supports decentralised apps, or dApps, smart contracts, and different types of blockchain systems. The cryptocurrency platform employs a transaction methodology called UTXO that is comparable to Bitcoin (BTC). In a public ledger, where users can view the history of transactions, transactions are recorded.
As a result, the platform was developed as a replacement for Ethereum to enable developers to create decentralised applications (dApps). On the TRON network, anyone can develop their own decentralised applications (dApps), supply content, and get paid in digital currencies in exchange. Unquestionably, one of the benefits of TRON is the freedom to produce and distribute content without worrying about transaction fees.
How to buy TRX ?
If you want to buy TRX coin then you should follow these steps-
● Choose a Crypto Exchange
You will require a crypto exchange in order to purchase Tronix (TRX). This is a platform where buyers and sellers can conduct transactions for buying and selling crypto currencies.
To begin with, you'll need a trading platform for TRX. TRX is traded on numerous exchanges in India, including WazirX, CoinDCX, Coinlord and CoinSwitch Kuber. You can choose any exchange as per your comfort. I am not promoting any crypto exchange here.
Next, find out whether payment options are accepted and if there are any associated fees. Although exchanges can offer a variety of options, direct bank transfer is frequently the most affordable.
The majority of exchanges feature built-in wallets that store the public and private keys you'll need to conduct transactions. Look into the exchange's transfer policies and potential costs if you choose to utilise a non-custodial wallet somewhere else.
● Choose Payment Method
Before you can start buying TRX, you must fund your account after selecting an exchange. Depending on the exchange, you can fund your account with net banking, bank transfers, or cryptocurrency wallets.
But be aware that certain funding choices can incur additional transaction costs on certain platforms. For example CoinDCX charges 0.5% fee on net banking. WazirX, on the other hand, charges INR 23.6 (totaling all taxes) through net banking. For wallet transfers, credit cards are not accepted, and costs vary depending on the destination you choose.
It usually makes sense to use electronic transfers from a bank account instead of other means because fees restrict how much you can invest (and consequently how much money is available to grow and compound). The most convenient and affordable method of payment with most exchanges is bank transfer.
● Place an order
After selecting an exchange and a payment method, go to the TRX page on the website or in the app and input the amount you wish to purchase. Once verified, the sum would need to appear in your account.
● Choose a storage method
You might be content to keep your public key and private key in the built-in wallet that your exchange offers. Everything is in one location, which makes things much simpler. If you ever forget your password, the exchange could also assist you with access issues.
Hot wallets are a target for hackers, so there. Over the years, both large and small exchanges have been hacked, resulting in substantial asset losses for users.
Your keys are more in your control if you keep them in a non-custodial, third-party wallet, but they still run the risk of being hacked.
Conclusion
With more than 73 million accounts and 2.8 billion transactions, Tron is one of the blockchains with the quickest growth. TRX can be traded for other cryptocurrencies or used as an investment or store of wealth.
However, the establishment of and communication with dApps on the network constitute the token's principal usage. With a $5.58 billion market cap as of this writing, TRX is ranked 15th overall. By 2025, TRX is predicted to cost $0.25, according to experts.
The TRON project is designed to redesign the digital entertainment ecosystem and remove all centralised components. From being an observer, you will become an active participant of the TRON ecosystem. You will no longer need to rely on third-party platforms and content distribution sites to consume media and entertainment, like music and movies.
The TRON network removes the need for any middlemen by allowing creators to receive 100 per cent of their revenue. Consequently, there are no more intermediaries who take a huge chunk of each revenue generated by creators.