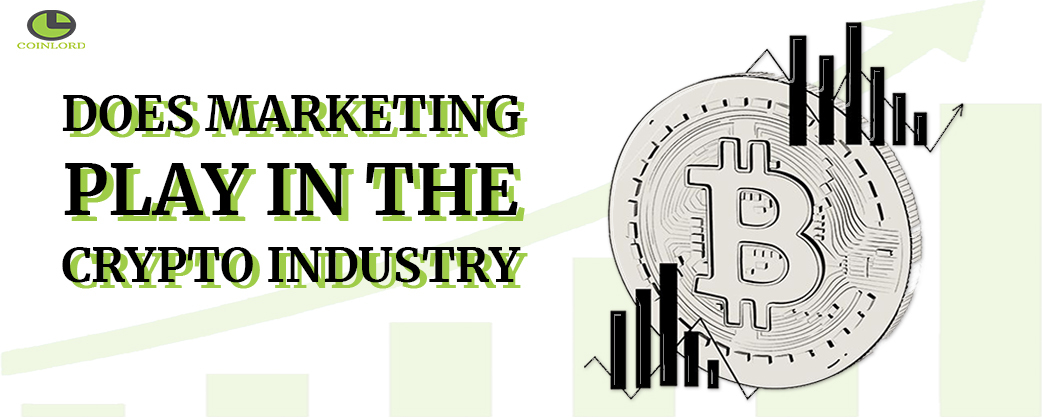 What Role Does Mar

keting Play in the Crypto Industry?
Numerous projects have been released on the market as interest in blockchain technology continues to grow. Project owners should develop an effective crypto marketing strategy that can attract potential investors. It should go without saying that you must present your project directly to the appropriate audience in order to generate revenue after making significant investment in it.


Promoting crypto products can be challenging because it calls for more strategies than only putting banners and adverts on various websites. You must explain to prospects the use cases of your product and how it may help users through cryptocurrency content marketing. If you are unfamiliar with crypto marketing, you might find the field challenging and even daunting.


Over the past two years, the market for crypto companies has experienced significant growth. Nowadays, dozens of cryptocurrency firms are growing up all over the place. With so many rivals, it might be difficult to achieve traction as a cryptocurrency firm. If you want to grow your business, creating a digital marketing strategy is a great place to start.
At the moment, methods like word-of-mouth promotion, community building, social media marketing, content marketing, Google SEO marketing, awareness campaigns, blockchain-focused events, airdrops, and a whole host of others are finding their way into the present marketing mix for cryptocurrencies.
What is Crypto Marketing?
The term "Crypto Marketing" describes the advertising and distribution of products and services related to the cryptocurrency sector (an exchange, a wallet, a lending institution, a community, etc.). Crypto marketing refers to any endeavour aimed at promoting a brand, attracting clients, boosting repeat business, and boosting sales.
Several aspects of crypto marketing are different from traditional marketing:
· The terminology and technology that are utilised to describe the cryptocurrency market are brand-new and complex.
· On occasion, the market is sponsored and administered by the community.
· Cryptocurrency usage is still in its early stages.
Due to these distinctive characteristics, traditional marketers must reconsider their approach to promoting crypto firms and find ways to capitalise on the fact that everything is digital and that customers seek out online communities for support
Marketing Strategies for Crypto Industry
Since the crypto space is still relatively new and complicated, there is a need for a lot of content to inform people about the technology, its prospects, and how it operates. Some of the following marketing should be adopted by any crypto base organisation to grow themselves.
Networking
Networking is critical in every sector, but it's much more crucial for a lesser-known product in a developing market like blockchain. The ideal course of action would be to establish connections wherever possible, and LinkedIn is undoubtedly the most efficient platform for doing so.
In fact, team members in an ICO can automate the process of contacting possible sponsors and influencers on LinkedIn by using useful tools like Linked Helper.
Community Building
A community is a collection of individuals with shared interests. You can reach the correct audience and gain new users with the aid of a community. But a community involves more than simply online followers. You won't be able to control or influence any of the conversations there.
Use websites like Reddit or Telegram if you want to make a big influence on people and your business. Discord is a very popular platform choice for crypto enthusiasts.
Social Media Platforms
For people to learn about ICOs and cryptocurrency initiatives, they must be active on social media. The best places to start are Facebook, Twitter, and Instagram. But maintaining these channels up to date is also crucial, beyond just sharing your projects.
In other words, it sends the wrong messages to visitors if they encounter a social network page with no postings or updates. Likewise, projects must make sure that each query is addressed and that each comment receives a suitable response.
Crypto Airdrops
In the crypto sector, airdrops are still highly popular and useful. Sending free coins or tokens to people's wallet addresses can help you advertise your new currency if you're a new player in the market.
In the end, airdrops are very well-liked by investors and a fantastic technique to generate interest in the business. It goes without saying that the more free tokens you offer, the more likely it is that your community will expand.
Email Marketing
Since email marketing enables businesses to individually interact with and reach their target audience and boost sales more affordably, it presents a wealth of potential. A tested method for keeping investors informed about a project and giving them the opportunity to promote airdrops and other updates and events is to send out newsletters, whether they are produced by PR specialists or your company itself.
Quality Content
People are continuously searching for the most recent knowledge because of the attractive financial advantages and novelty of the new technology.If your material appears in communities, social media feeds, or Google search results, leads may be attracted to your platform.
If readers can tell that you are an expert in your field and can assist them navigate it, your content will also help you gain authority and trust. People are more likely to choose your brand over a competitor as a result, increasing your brand's share of mind.
Making a blog for your website is the most straightforward method of content sharing. When someone finds your blog, they will also find your website and offerings by default.
Conclusion
In 2021 alone, more than 2000 cryptocurrencies collapsed, and new cryptocurrency businesses are shuttering every month.The worldwide cryptocurrency market is currently valued at $983.72 billion. It's time to make an investment in long-term marketing techniques if you don't want to join the group of deceased firms and coins.
To share that content, you might start with content marketing and email marketing. Start a blog and start educating your current clients or contributing to the cryptocurrency forums. Recall that this is a long game. Right after you publish your first post, you can't get to the moon.